Should You Go for an Artificial or Real Christmas Tree – Home Disaster Prevention Tips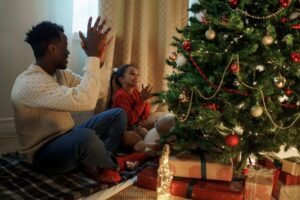 With Christmas just around the corner, families everywhere are busy buying gifts and removing ornaments from their attics. It's the most wonderful time of the year, and there's no one more aware of it than children and families who are rushing to buy gifts for all of their relatives and loved ones. Amid all the gift-buying is the very potent urge to decorate your home in Christmas decorations. One of the most central pieces in any home is the Christmas tree.
A Christmas tree is the piece de resistance for any home at Christmas time. People decorate their entire homes around the Christmas tree. It is here that all the gifts are kept and arranged. You dress it up with tinsel and hang ornaments on the Christmas tree, and it isn't Christmas until you place the star on top. However, with all of this glamour around Christmas, it's necessary to remind yourself that there are still things you must be careful of.
For anyone buying a Christmas tree, the most significant thing they have to decide is whether they want to go for an artificial tree or a live one. If you're still confused, read on as we give you our two cents.
Real vs. Artificial: Why Pick a Real Christmas Tree?
If you're choosing between a real and artificial Christmas tree, there are many reasons why you could go for the former. We have mentioned some of these reasons below:
1. It keeps festive family traditions alive
Taking a plastic tree out of the storage each year isn't quite as festive as heading to a Christmas tree farm with your family to pick a tree that all of you like. For many people celebrating Christmas, the type of tree they buy represents a larger family tradition that has been around for a very long time. For many people, it's a way of remembering people who have passed on from Christmas to Christmas and basking in their memories of these people.
In many households, it's not Christmas without a real Christmas tree which the family has purchased from a farm.  It's a non-negotiable entity for many, which symbolizes the Christmas spirit in their home.
2. It's a Fun Family Activity
Choosing a real Christmas tree is fun and involves an adventure with the entire family to the farm. To be fair, you can also take your entire family to the local Walmart and buy an artificial Christmas tree, but somehow a Walmart doesn't give the appropriate feel for Christmas.  Little ones love choosing their favorite spruces for the living room, so they can imagine sitting around it to open their presents.
3. They Smell Amazing
Regardless of how much you perfume a plastic Christmas tree from Walmart, it will not have the fresh winter pine smell that a live Christmas tree has. You can always light an evergreen candle all around the room and call it a day. But a candle cannot be the perfect substitute for the clean smell which pine needles from the Christmas tree will emulate.
4. They're Biodegradable
For many years, people believed that chopping down Christmas trees wasn't good for the environment. However, that's not true.  They're a sustainable crop which means they're likely to go through their natural cycles like any other natural crop, so harvesting them is the best way to go about it. You don't have to worry about how you'll recycle them. You can likely use the wood from the tree for other things too.
In contrast to a live Christmas tree, an artificial one is generally made from plastic. Plastic is not biodegradable and has a significant impact on climate change. The material for fake trees is plastic and steel, which require a lot of energy to produce. They're also shipped from China and are likely to stay in landfills after you throw them out.
Are Real Christmas Trees Flammable and Steps to Prevent Fire?
The major drawback of real Christmas trees is that they're flammable. People tend to string a lot of fairy lights and tiny circuitry around Christmas trees to light them up. If something goes wrong, the entire tree can burn in minutes. It's a fire hazard, and no one wants to risk that. To avoid or minimize the risk of a fire in your Christmas tree, you can take the following steps:
1. Make a Fresh Cut
You don't want to buy trees that have already been cut before you get to the Christmas tree farm. Your best bet is to buy a tree that is still growing and ask the person to cut it for you. Once you've done that, go home, cut off a couple of inches from the bottom, and then place it in a trough of water.
2. Water the Tree consistently
Firewood becomes firewood when it dries. To keep the Christmas tree from being flammable, you should water it consistently. Plain water is best for Christmas trees, so make sure there's enough in the stand which you place your tree.
3. Artificial Trees aren't necessarily better
With real trees, at least, there are measures you can take to ensure that the fire doesn't burn your house down. With artificial trees, the flame resistance may wear down when the entire tree is on fire.
For more information on real and artificial Christmas trees, visit us at www.911restorationraleigh.com