Sanitization and Disinfection Services in Raleigh
As coronavirus spreads rapidly through Raleigh and the surrounding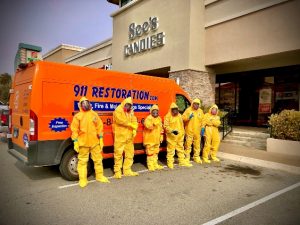 area, many property owners have questions about maintaining a clean space for their family or customers. It is true that deep cleaning has never been more important than it is now. Even if it seems exhausting to constantly guard against the invasion of germs, it's well worth the lives we could lose through neglect.
While this pandemic will not prove fatal for everyone, many in our community are vulnerable to severe infection. This includes people who are elderly and immunocompromised. Because coronavirus is so contagious, our choices as individuals have a serious effect on the wider community. It is not necessary to panic. 
Best practices include frequent hand washing and social distancing. Stay at home as much as possible. If you have to leave your property for work or for essentials such as groceries or health care, be aware that you may be exposed to the virus while in public. To protect yourself and your household, take measures to sanitize your home after returning from an outing.
If you own a commercial property, your choices are especially important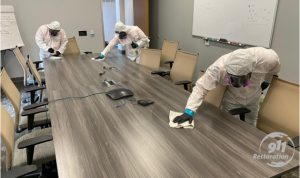 for peace of mind in Raleigh and the surrounding area. Whether it's an office, a retail store, or any other commercial facility, your building brings people together under one roof. Aside from encouraging employees and customers to maintain six feet of distance from one another, observe a regular disinfection schedule. Those who carry the virus may not show symptoms for as many as 14 days. This means even your most conscientious patrons and staff could bring coronavirus into your facility accidentally. Once again, the best rule of thumb is to assume your property has been exposed to this pandemic. Be hypervigilant and thorough in your disinfection efforts.
You may consider hiring a professional sanitization team. 911 Restoration of Raleigh is a great resource for Raleigh and the wider region. We serve the surrounding communities with deep cleaning and disinfection for both residential and commercial properties. Our technicians adhere to CDC and EPA protocols, working hard to deliver quality service and peace of mind. Everything we do, we do with the goal of helping our neighbors find their way to a Fresh Start. While it's still hard to guess what life looks like beyond this pandemic, we believe the actions we take today help us secure a bright future for our community. This philosophy motivates our entire sanitization staff to provide you with the highest standard of service.
Thankfully, it is also a nationwide restoration company with local expertise in water damage, fire damage restoration, and disaster restoration services.
911 Restoration of Raleigh is an IICRC-certified sanitization and disinfection company that can reign in your fungi problem promptly. Call us at (919) 371-5632 and see how we can help you.
These are hard times. But we will get through it together. For professional sanitization and disinfection in Raleigh and beyond, call 911 Restoration today.