Assessing The Different Classifications & Categories of Fire Damage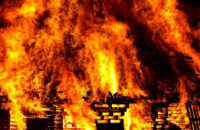 Fire is a common occurrence. Commercial and residential properties are both at risk of fire damage. There are several causes of a fire. According to the United States Fire Administration, the five most common causes of fire damage include:
Cooking

Electric malfunction

Heat sources (e.g. space heaters)

Negligence

Open flames
Whatever the case may be, fire damage can be minor to extensive. As a property owner, you should be aware of the different classifications and categories of fire damage. After all, this is what your fire damage restoration company will use to assess the damage. They will then devise an appropriate restoration plan accordingly.  
Classifications and Categories of Fire Damage
There are two main categories of fire damage. These include:
Primary Fire Damage

Secondary Fire Damage
Let's look at each of these in detail. 
There are three kinds of fire damage that fall under these two categories. This refers to the type of destruction each element in fire can cause to you or your property. These include flame damage, smoke damage and damage by other substances like chemicals and water. 
Primary Fire Damage 
Primary fire damage is the damage that is caused directly as a result of the fire. This is why flame damage falls under this category. Flame damage is the most obvious kind of destruction that fires can cause. The flames might eat up different materials in your house or offices like wooden floors and furniture. But that's not all. Once you extinguish the fire doesn't mean the damage has ended. 
Secondary Fire Damage 
Secondary fire damage is often more long-lasting because it often goes unnoticed. Secondary fire damage is the damage caused by other elements like smoke and corrosive substances. Fires can lead to smoke damage. Smoke and soot tend to linger, and may discolor the surface of your building. Soot will also lead to black stains that can be very hard to remove. Smoke particles will immerse in walls, floors, and upholstery, and cause a horrible odor. This smoke can also lead to health detriments.
 Getting rid of a fire and fire damage will cause other damage. When you put out a fire on your property, you incur the risk of water damage. This is why you would need water damage restoration services. Water damage will then also lead to mold damage if it is not tended to. Your property can also suffer chemical damage. 
Classes of Fire Damage 
There are 6 classes of fire damage as follows:
Class A
This is when a fire is caused due to the involvement of normal, combustible materials like paper, wood, rubber, plastic and cloth. Fire extinguishers that have an A rating are designed in a way to extinguish fires that involve these flammable solids.  
Class B
Class B fire is one where there is the involvement of combustible liquids or solids that can be liquefied. This includes grease, oil, paint, solvents, waxes and even some plastics.  Class B fires do not cause damage caused by cooking oils and fats. Class B extinguishers can put out fires caused by flammable liquids. 
Class C
Class C fires are caused when live electrical equipment is involved. Electrical equipment could include wiring, motor, and electric panels. Class C extinguishers are designed to extinguish fires caused by energized electrical equipment. 
Class D
Class D fires involve combustible metals like magnesium, aluminum, potassium, sodium and titanium. Extinguishing agents have the propensity to react with a metal fire and aggravate it. In a Class D fire, you must let professionals do their job. 
Class E
Class E fire is caused by both the elements that can cause a Class A and Class B fire. Class E fires also include electrical equipment fuelled fires. 
Class F 
Class F fires are caused by commercial cooking equipment like cooking oils, vegetable oils and animal fats. These fires tend to be more serious in nature. They can also cause more fire damage than, say, Class A fires.
Hire a Professional Restoration Company 
Going through a fire is a devastating and emotionally triggering experience. Fire damage can be serious, and fire damage cleanup can be dangerous. After a fire, the property could have glass shards, hot surfaces and a host of other hazards. This is why it is important that you let professionals take over the job. 
911 Restoration of Raleigh is a locally owned and operated company that will help give you a fresh start after you have suffered a fire. With a quick emergency response time of just 45 minutes, you rest assured they will be at your doorstep to contain the damage. They offer free visual inspection to property owners as well as free fire damage assessment. This can help you understand and prepare for the costs according to the extent of damage done. 
There are many facets of a fire that they handle, including smoke removal, odor removal, water damage restoration and more. This all-in-one service is all you need to help recover your property from any class or category of fire damage it has undergone.