Disaster Restoration
A problem with your plumbing system can create a water disaster in your home if it is not handled properly, which is why you should contact our disaster remediation Raleigh staff at 911 Restoration of Raleigh to remediate the entire situation.
Our disaster cleanup contractors in Raleigh always guarantee that we will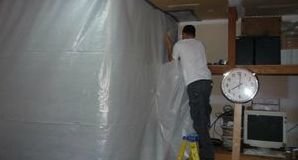 arrive at your property within 45 minutes of receiving your emergency call, no matter what time of the day or night you call.
Our phone lines literally stay open around the clock, making our disaster remediation Raleigh pros available 24/7/365 at 919-371-5632, making it possible to get to you quickly around the clock. 
Homeowners can trust our disaster remediation Raleigh technicians to repair any and all issues they may be experiencing, because we are licensed, bonded, and insured to mitigate all causes of flooding, such as:
Correction of the burst washer hose

Mold Testing Services
Flooded Basement water removal
Toilet overflow sanitization
Leaky water heater repair
Restoration of faulty fire sprinklers
Cleanup of flooded and moldy crawlspaces
Fungus and mold decontamination
Overall comprehensive damage repair
Restoration of pipe bursts
When you reach out to our disaster remediation Raleigh crew for help you can rest assured that you are in capable hands and we will implement same-day services for all issues involving water.
Our Pros Can Cleanup Any Type Of Disaster
Our disaster restoration Raleigh experts use innovative cleanup techniques to turn homes into beautifully restored living spaces.
Our IICRC certification shows just how dedicated we are to staying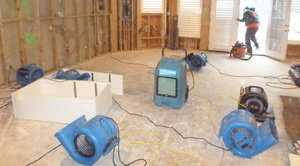 relevant in the home restoration industry. Our disaster restoration Raleigh team aim to always be on top of the newest restoration methods, ensuring that we offer our customers top-of-the-line service.
Our disaster restoration Raleigh techs help put our customer's minds at ease knowing that we can handle any type of disaster that affects your home. We are trained in many disaster restoration protocols, with an emphasis on water damage restoration.
This is important since water is an element in most disaster situations, whether it's from fire hoses putting out flames, a leaking roof, or an explosion with the water heater. So, whatever the type of disaster you are dealing with, our disaster remediation Raleigh techs can fix it, so call us today! Call us at 919-371-5632 and allow us to provide you with a free visual inspection.
The Customer Always Comes First On Every Disaster Remediation Job
As important as it is to get your home back on track after it has been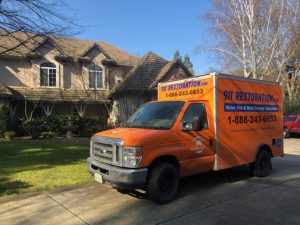 affected by a flood, fire or plumbing issue, it is just as important for our disaster remediation Raleigh staff to make sure that you are taken care of.
Any time you are forced to have your daily routine interrupted it can cause stress, and our disaster remediation Raleigh pros want you to know that we are mindful of that.
Our disaster remediation Raleigh unit is sensitive to the fact that this is a vulnerable time, and hope that by offering excellent customer service, we lessen that emotional burden.
Our IICRC-certified technicians at 911 Restoration of Raleigh are ready 24/7/365 to provide professional mold removal, cleaning, and disaster restoration services.
When you have a question our disaster remediation Raleigh members encourage you to contact us the moment need an answer, and we will do our best to dispel all your concerns. Call our disaster remediation Raleigh unit at 911 Restoration of Raleigh today and we will show you what it is like to work with the fresh start company. so contact Cary restoration company today at 919-371-5632 
Serving the communities of Apex, Blands, Cary, Chapel Hill, Durham, Fuquay-Varina, Garner, Gransdale, Hopkins, Knightdale, Morrisville, Raleigh, Wake Forest and surrounding area.