Fire and Smoke Damage Restoration
When a fire has ravaged your home, then you can count on the fire restoration contractors in Raleigh at 911 Restoration Raleigh to whip your home back into shape in no time.
Our fire damage restoration Raleigh techs know that fire and smoke are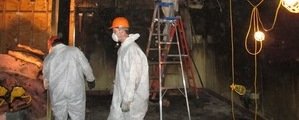 both damaging in their own way. Although the flames move quicker and cause more damage, the smoke lingers longer, slowly affecting the home and the items inside.
There is also the issue of the water from the fire fighter's hoses that saturates the home, leaving water damage and the potential of mold growth.
Our IICRC certified fire damage restoration Raleigh team makes sure the acidic smoke is completely removed from the home, washing away both the smell and stains. The ash and soot left from the flames are also cleaned from all surfaces of the home, preventing permanent damage. 
Our licensed, bonded, and insured fire damage restoration in Raleigh is available 24/7/365 at 919-371-5632 to offer the following fire remediation services:
Ash and tar cleanup

Smoke deodorization

Removal of burned possessions

Restoration of smoke-stained walls and ceiling

Replacement of fire-damaged flooring

Cleanup of fire retardant chemicals

Overall comprehensive home damage repair
Our many years of experience in the home restoration industry make our fire damage restoration Raleigh professionals qualified to repair even the most severe fire damage. Our fire damage restoration Raleigh workers offer fast, efficient, affordable service in order to keep your spirits up and get you back into your home as quickly as possible, so call us today! call us 919-371-5632
Our Crews Will Take Care of

 

You After the Flames Have Been Extinguished
Our fire damage restoration Raleigh agents want you to know that it is important to always call the fire department when a fire has started in the home.
So, once the fire fighters have put out the flames, then you should call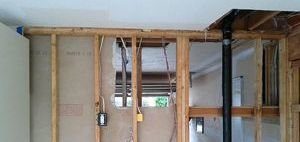 our fire damage restoration Raleigh crew, no matter what time it is.
The restoration process should then begin immediately by our fire damage restoration Raleigh experts, especially if you want the best chance of salvaging your valuables.
Our fire damage restoration Raleigh operatives will make sure to get all the residue removed from the property, making your home a safe, sanitized sanctuary again, so call us today! so contact us today at 919-371-5632
We Can Stop Smoke and Ash From Ruining Your Home
When ash and smoke are left untreated, they can begin to create permanent damage on both the structure of the home and your cherished possessions.
The sooner the fire and smoke remediation procedures are put into action,
the easier our fire damage restoration Raleigh members can get your home into pristine condition.
In order to speed up the renovation work, our fire damage restoration Raleigh team always offers affordable prices, so you never have to worry about the cost.
Furthermore, our fire damage restoration Raleigh staff also promises to work with all major insurance companies, as well as file your claim and filling out all the necessary paperwork to get you the lowest deductible possible.
We consider this part of our customer service policy, doing all we can to make you happy on all ends of the process. Our fire damage restoration Raleigh specialists at 911 Restoration Raleigh just want our customers to be taken care of, so call us today. Please call water damage restoration company Durham at 919-371-5632