Water Damage in Raleigh
Weather Alert: If you are experiencing weather-related damage from the storm, call us today for emergency assistance!
911 Restoration of Raleigh
In Raleigh, North Carolina hurricanes, flooding, and humidity are common. All of these events can spell disaster for property owners. If you own commercial or residential property in Raleigh, Cary, Apex, or the surrounding areas, you could be affected by water damage.
Extreme weather, appliance malfunctions, and building wear and tear are all responsible for water damage. No matter the cause, there's a solution.
At 911 Restoration of Raleigh, we handle water damage restoration, mold removal, fire damage restoration, sewage cleanup, and more for Cary, Apex, and the surrounding areas.
At 911 Restoration of Raleigh, we offer a Fresh Start with our comprehensive selection of property damage restoration services, including but not limited to:
Whether you're a Raleigh homeowner or business owner, 911 Restoration of Raleigh is your Fresh Start! We'll communicate with you throughout the entire process, help answer questions related to insurance, and restore your property to its pre-damaged condition. One of our IICRC-certified teams is dispatched within 45 minutes of your call! Contact us today, and one of our friendly representatives will assist you in finding the nearest Raleigh location.
When you need full-service property restoration in the Raleigh area, contact us today at 919-371-5632.
Service area map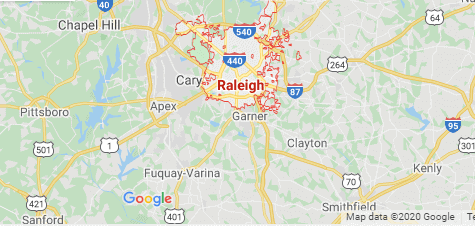 Water Damage Restoration in Raleigh
Sometimes, leaks are hard to detect. During a free visual inspection (for property owners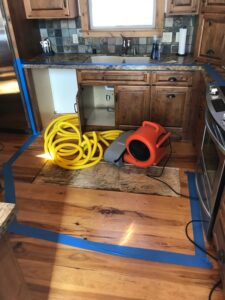 only), one of our friendly team members will find the source of water inside your building. Fortunately, at 911 Restoration of Raleigh, we act fast to prevent more water from flooding your property and causing more water damage. We then give you a breakdown of all repairs necessary. Once you approve, we start water damage restoration. 
In addition to water extraction, flood and sewage cleanup, and mold inspection, our crew also offers leak and building repair, structural inspection, and more. When water damages your flooring or ceiling, we'll remove and replace the materials for you. Our professional equipment dries the affected area properly, so you don't have to worry about residual problems like mold.
If you do suspect mold thanks to a leak or flood, we offer odor removal and mold remediation as well. For all your Raleigh water damage restoration needs, give us a call at 919-371-5632.
Sanitization Services and Disinfection Solutions
At 911 Restoration, we provide professional sanitization services and disinfection solutions for commercial and residential properties in Raleigh, Cary, Apex, and the surrounding areas. 
Our IICRC-certified staff of experts wears protective gear and only uses cleaning chemicals approved by the EPA. Whether you own a small retail store, a large warehouse, or several residential properties, you can trust our staff to clean and disinfect every surface thoroughly and safely.
For more information, contact our Raleigh branch today.
Mold Removal
Mold is often found in the dark, damp spaces inside properties. It hides inside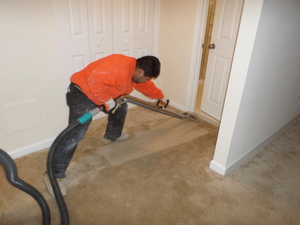 walls, under floors, in basements, and in closets. If your home or business recently had water damage, lacks ventilation, or hasn't been cleaned in a while, you could have mold.
Mold isn't good for the health of your building or its inhabitants. Certain types of fungus are toxic and can cause dizziness, allergies, headaches, or worse. People with compromised immune systems are especially vulnerable to toxic mold. That's why a fungus problem should always be taken seriously by property owners.
If you aren't sure you have mold, one of our trained professionals will do a thorough inspection. A few signs to look out for are a damp, musty smell, or unexplained damage to your building materials. If we find mold, we offer secure testing with third-party laboratories, so you can know what kind of mold your building has, and whether or not it's dangerous.
Our full-service mold removal includes a safe removal, followed by drying and disinfection. If your walls, ceiling, or floors were damaged by mold, we replace them. 
For mold removal that lasts, contact one of our staff in Raleigh today at 919-371-5632.
Sewage Backup Cleanup
When you have a sewage backup, the dirty water flooding your property is dangerous as well as destructive. In addition to damaging your property and belongings, wastewater contains harmful bacteria. If you experience a sewage backup, a pipe or main sewer line could be the cause. Regular maintenance of your plumbing system will help prevent sewage backups, as well as spot warning signs like toilet, shower, or sink clogs. If any of these are slow to drain inside your property, or you notice water bubbling or a bad smell, contact one of our repair professionals at 911 Restoration to inspect your plumbing immediately.
In the event of a sewage backup, open windows to ventilate the area if possible, and evacuate any people or pets. Our team arrives within the hour to keep your sewage backup from getting worse. We offer safe removal of hazardous waste, as well as cleanup. 
For professional water removal, disinfection, and drying after a sewage backup, call sewage backup cleanup today.
Fire Damage Restoration
After a fire, the damage can leave you overwhelmed. In addition to smoke, soot, and an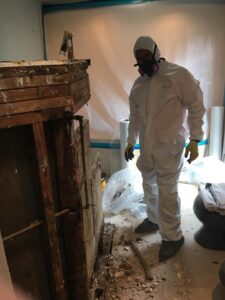 awful smell, there's the actual property destruction, plus water damage from sprinkler systems or fire hoses. In addition to all that cleanup, you have to worry about replacing any items you lost and potentially finding a new place to live or work during fire restoration in Cary.
At 911 Restoration of Raleigh, we help property owners with inventory and itemization, moving and storage, and provide resources after a fire. In addition to fire damage restoration, we offer free insurance consultations, and we'll handle the assessment, paperwork, and direct billing.
Our fire damage restoration services include soot and odor removal, puffback cleanup, and soda blasting to remove smoke damage in Raleigh. If you lost part of your property in a fire, we'll rebuild it. If your ceiling collapses, we'll repair it. We won't just get your property back to normal. We'll get it in its best condition yet.
For support and solutions after a fire, call one of our agents in Raleigh at 919-371-5632. 
Disaster Restoration
In the Raleigh area, hurricanes can strike at any time. If you're worried about water damage or any kind of property destruction from an impending storm, 911 Restoration offers board-up services, as well as moving and storage.
If your home or business has flooding, a fire, or any kind of emergency, we offer disaster restoration as well. Our team of repair specialists act fast to save your property from damage and save you time and money in the process. Don't wait. Call us today.
Commercial Restoration
If you own commercial property in Raleigh, Cary, Apex, or the surrounding areas, you need a repair company you can trust. After all, owning and operating a business is challenging enough. When your commercial building has damage, it can affect your business, driving away customers and profits.
In addition to 24/7/365 availability, our staff in Raleigh provides same-day service for all property owners. As soon as you call us, we'll have a qualified technician at your property within 45 minutes or less. All of our staff is IICRC-certified and follows all EPA and CDC protocols.
At 911 Restoration, we handle full-service commercial restoration for all kinds of properties. Whether you own a hotel, restaurant, warehouse, or apartment complex, we have solutions. Contact us today to find out more.
Serving the communities of Apex, Blands, Cary, Chapel Hill, Durham, Fuquay-Varina, Garner, Gransdale, Hopkins, Knightdale, Morrisville, Raleigh, Wake Forest and surrounding area.