Water Damage in Raleigh
911 Restoration Raleigh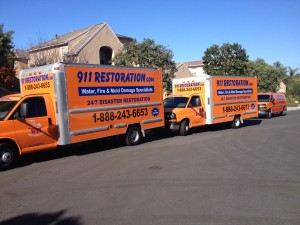 Water damage, fire damage, and mold removal are best handled by the professionals at 911 Restoration Raleigh. Lead by owner/operator Niles "David" Howard, our disaster restoration company provides a fresh start to the residents of Raleigh, Cary, and Wake County. Our IICRC certified technicians will be at your door within 45 minutes of your phone call.
Their skills are honed and ready to serve you in your time of need.
You get help 24/7/365 with same-day service for all emergencies.
A 45-minute response time means things get better rapidly.
The licensed, bonded, and insured team can be trusted to give you a free water damage estimate.
Believe us when we say that we know what you are going through. David has been in the industry since 1993, and felt the affects of a house fire personally. He understands what you need for a fresh start. Knowing the comfort that a professional can provide, David achieved the IICRC Master Restoration Technician Award in 1999 along with a good standing certificate for applicable services..
The 911 Restoration Raleigh water damage team is available now to provide you with a fresh start in Raleigh, Cary, or the surrounding area, so call now.
Water Damage Restoration

Water damage and home accidents come in a lot of forms. Sometimes they are quite obvious, such as in the case of a flood; however, they can be sneaky leaks. One frequently seen incident is due to minor pipe ruptures that go unnoticed by homeowners.
With harsh winter conditions, these hidden plumbing lines, that run behind walls and under floors, burst. Now, these pipe bursts are not grand, and in fact, what counts as a burst is when the structural integrity of the material is compromised.
Due to the expanding properties of water when frozen, you will not hear or know when one of these hidden pipes break. Therefore, water can slowly start to surround these dark corners. Eventually the signs may manifest themselves outward as pungent odors, crumbling drywall, warped flooring, or discoloration.
Therefore, if any of the above resonates with you, then give us a call. Our water damage Raleigh team will be at your door in a moment's notice.
Disaster Restoration
The Raleigh water restoration team is capable of fixing any home disaster you may experience. While we are water damage experts, our skills span far beyond that because water damage comes with a lot of other incidents. For example, in a fire, there is water damage, but we can also reconstruct, replace, and remediate any charred remain left behind.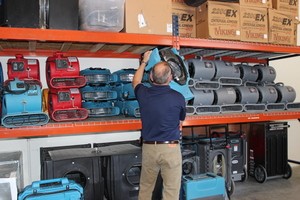 The reason you get an all-in-one team when you call us is because we are IICRC certified. The IICRC ensures that we understand the nuances of home restoration by instilling the basic of restoration. With those rudimentary skills, combined with the know-how to operate advanced technologies, and that makes all the difference for a swift and effective recovery.
911 Restoration Raleigh will handle the damages you face with expediency and care.
Call the disaster restoration crew for a team that will do it all for you.
Sewage Backup Cleaning
911 Restoration Raleigh is equipped to handle all forms of water damage, including category 3 events such as sewage backup. The process of backup is when blockage or breaks cause raw sewage to inundate your living space.
Not every team is capable of handling this. One reason we can perform sewage cleanup is our certifications, but a few more include the fact we have the hazmat suits and the training to navigate the space.
With rebreathers and appropriate wear, we are able to get in, set up vacuums, and pump waste out in a timely manner. Sewage carries a high bacterial load, so we will then sanitize the space afterwards with antibacterial spray. This curbs mold growth and eliminates germs.
It is the fresh start you need.
Fire Damage and Smoke Remediation
When a fire occurs it can really shake you up. We just want to let you know that things are going to get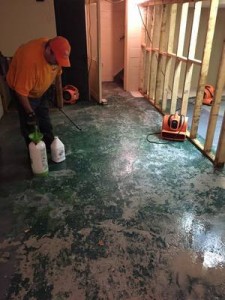 better. The water damage Raleigh team is capable of extracting water, removing soot, cleaning ash off of afflicted items, and restoring your home.
The equipment and methods use are extremely precarious. For example, smoke will fill a container, thus it gets everywhere it can. So, if a fire happened in your kitchen, then the smoke and ash spread to the vents and other rooms. For this reason, we utilize a tool known as a thermal fogger, which emulates smoke to neutralize odors.
For a fresh breath after a home accident, give the fire damage Raleigh team a call.
Mold Removal and Inspection

When you call 911 Restoration you are entitled to a free mold visual inspection. When it comes to mold infestations, you deserve to know the extent of what you are facing. Therefore, we will give you our honest and professional opinion on whether or not you need mold remediation.
If you have experienced water damage in the last year, and you had it restored by a team that is not us, then you may face a mold infestation. All that is required for it to go from spore to colony is moisture, a little bit of darkness, poor ventilation, and high humidity. It can plant itself the moment damage happens, and then keep growing throughout the year.
Mold removal should only be handled by licensed, professionals, so give us a call at 911 Restoration Raleigh for a team that can decontaminate your home, and make it fresh and clean once more. From inspection, to removal, and reconstruction, we have your back.
Give 911 Restoration Raleigh a call today!