Water Damage in Raleigh
911 Restoration of Raleigh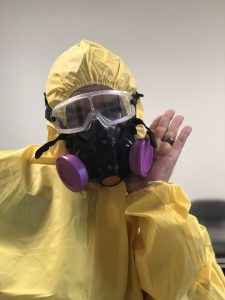 No matter what type of property damage you face, the repair technicians at 911 Restoration Raleigh is your go-to for affordable, comprehensive restoration service.
Our restoration company proudly offers damage relief to Raleigh, Cary, and the surrounding communities.
Whether you need water remediation, mold removal, sewage cleanup, fire damage restoration, or any repair following the devastating effects of a natural disaster, a property in crisis requires immediate attention from a full-service company.
And property owners deserve a restoration organization who can put themselves in an owner's shoes.
Service area map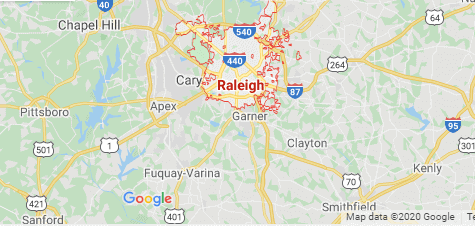 When you call 911 Restoration of Raleigh, you can count on:
Same-Day Service

45-Minute Response Time
The IICRC-certified professionals of 911 Restoration are licensed, insured, bonded, and highly trained to address your unique situation. We offer free visual inspection for property owners, fully assessing the situation so we can move forward honestly and effectively.
We offer affordable rates and work with all types insurance. We'll even file your claim for you.
As a nationwide restoration company, 911 Restoration operates within a standard of excellence. And as a locally owned and operated branch, 911 Restoration of Raleigh emphasizes responsibility to our community.
We are passionate about giving our neighbors a Fresh Start. If you are suffering from property damages in Raleigh, Cary, or the surrounding area, gives us a call today.
Client Testimonial
Sherry M.
"I would give them 6 stars if I could. I had to deal with a flood in my business, an absolute nightmare for every business owner. 911 Restoration came right away, and they are so professional and efficient. Even after everything was done they followed up and made sure everything was back to normal. A+ customer service. Thank you!"
Water Damage Restoration
Few home disasters are as overwhelming as water damage. Whether you're dealing with burst pipes, a flooded basement, or a ceiling leak, the effects of water damage can be extensive if you don't act quickly. From increased repair costs to risk of mold and mildew, the longer the water lingers, the more damages you risk.
That's why 911 Restoration is dedicated to providing you with immediate peace of mind.
Our IICRC-certified technicians are available 24/7, 365 days a year. We even offer a 45-minute arrival guarantee.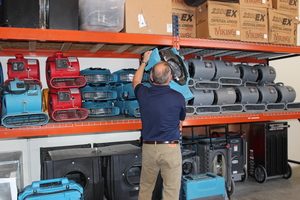 911 Restoration's licensed, bonded, and insured water damage restoration technicians will cover any service you need for a Fresh Start, including water extraction, sewage cleanup, carpet drying, and crawl space cleanup.
During the freezing winter months, properties are especially at risk of house flooding due to ice dams or pipe bursts. Frozen pipes can crack and cause a water damage emergency as hundreds of gallons of water spray out of the pipes and into your home.
When you call 911 Restoration, our water remediation specialists will arrive immediately to begin the flood restoration process. If your property has furniture and other valued items in the affected area, we offer pack-out and storage services, removing personal property and storing it safely.
Our highly-trained technicians then perform full water extraction from your flooded property, ensuring that the area is dried completely. They then repair any water damage that may have a resulted from the flooding. As part of our comprehensive service, you can also count on your water damage restoration team to inspect the drywall.
Don't let frozen pipes or ice dams turn into a long-term crisis. Call 911 Restoration Raleigh to repair your water damage and prevent any future losses from mold or mildew. We'll get you up and running again in no time . . . and we'll do so at an affordable rate.
Sanitization Services & Disinfection Solutions
Everyone in Raleigh has been affected by the spread of the coronavirus. You may be unable to go to work during the pandemic. In fact, staying in your home as much as possible is recommended as a way to reduce the spread of the virus. Due to the contagious nature of the virus, social isolation is very important at this time. Keeping your property clean and sanitized is also an important step you can take.
You can get professional assistance with disinfection solutions by working with 911 Restoration of Raleigh. Our crews can offer you sanitization services for commercial or residential properties. Allow us to help with cleanup and sanitization if your business is considered an essential service. We can also sanitize and disinfect your property if your business temporarily shut to reduce the spread of the coronavirus. Get personalized care and attention during this time by contacting for help around the clock.
Mold Removal
Between the water damage risks of Raleigh's frozen winters and the mold-friendly climate of our hot, muggy summers, this regions is especially at-risk for mold infestations.
Mold can cause serious damage to your property and pose a significant risk to your health. If you struggle with a mold allergy, the presence of mold in your home or business can be especially harmful to your productivity, comfort, and safety.
Moreover, a mold infestation is more than meets the eye. If you've tried to tackle mold removal yourself, odds are you have not truly vanquished mold. Effective remediation requires highly trained specialists and specialized equipment.
If you think you may have a mold problem, don't worry. Our licensed professionals offer Free Visual Inspection for Property Owners. 911 Restoration's mold removers will come to your property, assess your mold infestation, and strategize a plan for effective mold removal.
Moreover, our mold remediation crew doesn't just perform mold cleanup. They also perform water damage restoration services that tackle the root of the problem, preventing future infestations.
Call 911 Restoration Raleigh and let our affordable expert technicians remove mold on your property so you can finally breathe easy.
Sewage Backup and Cleanup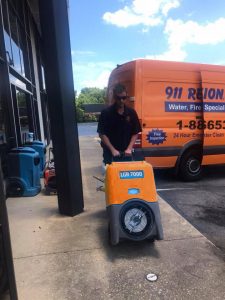 If you're dealing with a sewage backup from a sewer line backup or toilet overflow, you are dealing with something bigger than potential property damage. Officially classified as black water, sewage contains bacteria, toxic waste, and viruses that can cause notable health issues.
Time is of the essence when it comes to sewage cleanup, but you should be thoughtful in selecting a sewage removal company. Because of the high risk that comes with black water, you must select a organization you can trust to tackle every consideration of sewage removal through the safest possible process.
911 Restoration is the company to trust.
The licensed and highly trained technicians of 911 Restoration come with proper protection and the best equipment to pump sewage from your property safely and efficiently. They know how to fully sanitize the affected space to kill bacteria.
Furthermore, our sewage removal experts are fully trained in water restoration and mold remediation. No need to worry about the long-term effects of a sewage backup. Our experts are always one step ahead, repairing water damage and preventing potential mold infestations.
Give yourself peace of mind. Call 911 Restoration Raleigh for comprehensive sewage cleanup and a Fresh Start.
Fire and Smoke Damage Restoration
Fire damage can be devastating to a home or business, and not just because of the smoke and flames.
While the fire itself can leave you with smoke damage, fire damage, and unwanted odors, the act of extinguishing the fire can result in secondary water damage.
If your property has been damaged by fire (as well as the fire hose), don't lose hope. An expert fire damage cleanup unit can make your space feel brand new again. The trick is to save time and money by choosing a fire restoration company that is equipped to tackle more than fire and smoke damage.
The licensed technicians at 911 Restoration are experts in fire damage cleanup, smoke removal, water damage remediation, and even mold inspection and removal. No matter how the flames have put your property at risk, our highly-trained technicians offer comprehensive services to see to your every need.
Call 911 Restoration Raleigh. We don't just repair the damage; we restore your space.
Disaster Restoration
If your home or business has been hit hard by a disaster, you can count on an immediate response from Raleigh's disaster restoration squad.
From hurricanes to tornadoes to winter storms, a disaster can happen suddenly, day or night, damaging your property in an instant. This is why our disaster techs are available around the clock 24/7 and are guaranteed to arrive within 45 minutes.
No matter what type of damage you are facing, the disaster restoration crew works with you to offer the most affordable price so you can have a Fresh Start as quickly and painlessly as possible. We even accept all types of insurance and are happy to take responsibility for filing your claim so you have one less thing to think about.
In a world of unexpected disasters, there is at least one thing you can count on: 911 Restoration. Call us today and let our Raleigh experts turn loss and damages into a new beginning.