Cleaning Up After a Hurricane – Things to Look For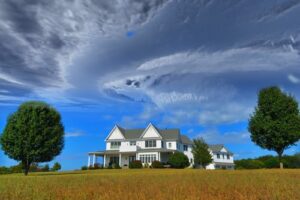 Once the hurricane has passed and you've determined yourself and your family safe, it is now time to clean up your property and the surrounding area.
Hurricane cleanup may look different for everyone affects, depending on the type of damage it causes to your house or building. Since there is no one kind of damage, we have highlighted a few things that you would need to do to clean up and protect yourself.
All hurricane cleanup tips highlighted in this guide ensure that you have a proper starting point to help you navigate through the entire process. It is crucial for you to learn about hurricane damage, cleanup procedures, and the equipment needed to keep you and your family away from danger.
What To Prepare Before A Hurricane Hits?
Preparing for disaster cleanup is a key process through which you can reap the benefits later. If you know a hurricane is about to hit your area, it is crucial to invest your efforts in hurricane recovery. From disinfecting liquids to safety gear, you will need to invest in these cleaning supplies for when you need to use them. Of course, going out to buy these items once the hurricane has already hit can be dangerous as well as difficult.
Here are a few hurricane cleanup tips you need to keep in mind in order to restore your home and get your life back on track:
What Safety Gear Do You Need For A Hurricane Cleanup?
Before you begin, it is important to always wear safety gear which also includes protective hurricane clothing. These tools are incredibly essential to keep you and your family safe:
Waterproof boots
Chemical-resistant and waterproof gloves
N95 face mask
Goggles
Earplugs or any other kind of ear protection
Fire extinguishers as a safety backup
Hurricane Cleanup How-To: General Safety Tips
The aftermath of a hurricane can be incredibly challenging to restore. Hence, you should be suited in proper safety gear and have additional help to get this done. Other than this, it is also essential to give yourself a break because hot or humid weather can be incredibly dehydrating for you. While we understand that restoring your property is a top priority, you also have to think about your personal health. Prioritize your work depending on the need of the situation.
Open All Doors and Windows
Water damage and flooding inside the house are concerning. It is important to remove all kinds of humidity and moisture from your property as fast as possible. Opening all doors and windows will allow water to rush out, as well as air to come in. You should also open cabinet and closet doors to ensure proper dehumidification.
Turn Off All Main Power Sources
It is crucial to turn off the main electricity line to avoid any electrocution mishaps as there is a lot of water and moisture involved in a hurricane situation. Be very safe around electronics and do not use them until they are deemed safe for use by professional disaster restoration services.
Protect Yourself from Mold
Mold growth is a direct offset of water damage. If you just went through a hurricane, there is possible mold growth in your property. This is why it is important for you to wear respiratory masks and waterproof gloves. Even if there isn't any mold visible, do not skip out on sturdy boots and a good pair of gloves because water insects or sharp debris can damage your hands and feet during the cleanup process.
Discard Unsalvageable House Items
After a hurricane, official  authorities in charge will provide you with the information where you can discard all your property debris. However, the first thing to do is to remove all unsalvageable items from your house.
Flood Restoration
If the hurricane caused a lot of flood damage in your house, all the carpet padding, rugs, and carpets need to be removed. If they are salvageable, they can be dried, cleaned, and dehumidified. The same goes for the flooring and insulation in your house.
Call a Disaster Restoration Company
A disaster restoration company is equipped in handling hurricane cleanup services because of their training in handling difficult situations and the latest technology.
Even though you will have to take responsibility for your own property's post-hurricane cleanup, calling professional disaster restoration services can make things easier and much safer. You may be able to carry out the tasks required, but a professional hurricane cleanup team undoubtedly has more experience.
Who Can Help?
Contact 911 Restoration of Raleigh for expert disaster restoration services and consultation. With a response time of less than 45 minutes, 911 Restoration's team of skilled technicians can be at your property in no time. Not only do they know their work well, but they are also the best in the business when it comes to client management.