4 Things to Look For In a Sanitization Service Company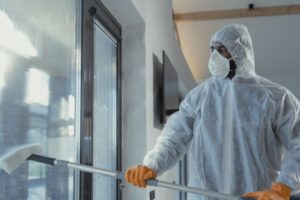 Cleaning crew in hazmat suits has become a norm these days. Yet, are protective gear the only difference between home cleaners and a professional sanitization service company?
Not necessarily. There's a vast difference between house cleaners and sanitization crews starting from the equipment they use to their training. The latter goes above and beyond average cleaning methods by incorporating advanced sanitization and disinfection techniques for residential and commercial projects. These efforts help us keep you and your family safe as we return to a new normal.
Here's a closer look at the traits you should look for in a sanitization service company:
Implements a Goal-Oriented Action Plan
In the new normal, the slightest negligence in cleaning procedures can prove costly in the long run. Opt for a company that creates a goal-oriented contingency plan to stop the spread of germs, mold, and air-borne diseases.
Here's a short overview of what happens at 911 Restoration of Raleigh:
Free Home (or Property) Inspection
Our trained home restoration experts will survey the affected site and surrounding area to assess the damage. We create a customized sanitization strategy according to this information.
Deep Cleaning (i.e. removal or extraction)
All exposed surfaces must get thoroughly cleaned and scrubbed. We interchange cleaning and extraction methods based on the situation. For instance, water damage restoration and sewage backup clean-up involve dehumidifiers, air pumps, and vacuums.
The goal is to dry damp surfaces and remove all lingering traces of moisture. Dirt, grit, and other residues are also removed before we move to the next step. These facilitate the sanitization techniques that follow.
Sanitization and Deodorization
We use top-rated disinfectants and cleaners to get rid of germs and air-borne diseases. Deodorizers can help eliminate the stuffy, pungent, and musty smells of mold and sewage water from your living and working spaces.
Having a systematic approach towards sanitization can help you combat health risks in residential and commercial spaces.
Plays by the Rules
Mold infestation, viral infections, contagious diseases such as coronavirus are health hazards present in the atmosphere. Homeowners (and corporate leaders) can utilize advanced disinfection treatments to eliminate the threat.
It's necessary to ditch a makeshift sanitization service company with ordinary cleaners for an IICRC-certified team. Work with professionals who underwent hands-on training and had to abide by rigorous regulations before becoming qualified practitioners. You can expect the same level of discipline and dedication when they come to your house for treatment.
Besides this, they follow the Environmental Protection Agency (EPA) and Centers for Disease Control and Prevention (CDC) guidelines to ensure everything gets done according to proper protocol. Following rules minimizes the risk of further contamination and keeps the situation under control as the specialists disinfect your home.
Uses the Advanced Equipment and the Latest Sanitization Techniques
It doesn't matter if you're dealing with water damage, smoke and fire damage, a biohazard, or mold infestation. Either way, you can't eliminate health hazards without the right gear and equipment. Hence, you need to call home sanitization experts who have the resources to help a client in need.
Using high-grade dehumidifiers, high-power vacuum cleaners, deodorizers, and air pumps lead to:
Quick and efficient cleaning
Noiseless home sanitization and disinfection treatment
100% germ-free cleaning service
Better preservation and maintenance of the affected area
We tend to enter this phase after removing excess water extraction and mold removal. Specialists use state-of-the-art equipment to finish the task faster and more efficiently than your average home cleaning crew.
Cooperative and Caring Consultants
Sanitization and disinfection service in Raleigh can feel clinical with the hazmat-geared crew coming in and out of the house. We make the situation less stressful and more human by providing homeowners with unconditional support.
Feel free to ask as many questions as you like via phone or through an in-person consultation. Additionally, we provide insurance support too. We can help you file an insurance claim with the assistance of documented photographic evidence and other supporting matters. In turn, this will ensure you receive the best coverage possible for restoring and disinfecting your home after a disastrous event (i.e. fire, smoke, soot, sewage water, and mold).
Each project begins with a detailed assessment of the recovery site followed by deep cleaning. It's followed by sanitization and disinfection treatments to keep germs and bacteria out of your home.  We focus on individualized sanitization plans to maximize positive outcomes and results.
It's a Wrap!
On the whole, 911 Restoration of Raleigh ticks all the boxes as the best sanitization service company in the area. The accredited company offers exemplary customer service and support for all residential and commercial projects.
Additionally, they have recruited home restoration experts that have received specialized training for sanitization and disinfection treatments. Having practical expertise in this area makes them a reliable resource for all your sanitization needs. That's because they have the knowledge, skills, and equipment required to transform inhabitable properties into germ-free living spaces.
Apart from this, they offer a series of other home restoration services to assist homeowners in this area. These include water damage restoration, smoke and fire damage restoration, sewage backup, mold remediation, etc. Think of it as a much-needed bonus during a time when uncertainty surrounds homeowners during disasters.
Are you interested in receiving the best sanitization service in the area? Call (919) 371-5632 to schedule a consultation with 911 Restoration of Raleigh for all your home restoration emergencies.