Mold Removal in Raleigh
Property owners may be surprised at how quickly mold can invade a property after the spores have been exposed to moisture, which is why it is crucial to reach out for mold removal as soon as an infestation is discovered.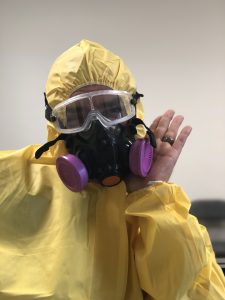 Typically, mold begins to grow after water damage has formed in an area of the property that stays relatively damp, dark, and warm, such as under a kitchen sink, up in the attic, or throughout the crawlspace.
The mold experts at 911 Restoration of Raleigh are aware of these trouble zones and understand how crucial it is to implement a proper mold cleanup effort as soon as any signs of growth are discovered.
We provide mold removal services to owners of both residential and commercial properties and will administer a free visual mold inspection to property owners in need of our assistance.
In addition to mold cleanup, customers can expect to receive water damage restoration, and structural drying and dehumidifying services, because, more likely than not, water and mold issues go hand-in-hand.
Call 911 Restoration of Raleigh to receive IICRC certified mold remediation from a team that cares and understands your needs today!
Mold Removal And Water Damage Services
There are many scenarios in which a leak or flooding incident may be the catalyst to a mold infestation.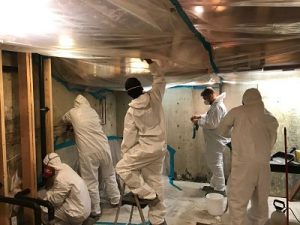 An exterior pipe burst that begins leaking water under the house or, even a seemingly harmless issue, like water dripping from the AC vent in the ceiling can create an ideal environment for mold spores to blossom.
The key to a successful mold removal job is to act fast as soon as you notice signs that water may be influencing a specific area of the property. By having technicians inspect these water-damaged areas, they will be able to catch a mold colony before it spreads throughout the walls and ceiling.
By working with professionals as soon as you see water stains and mold on walls and other surfaces, you can feel confident that the mold will be stopped in its tracks and eradicated completely.
911 Restoration of Raleigh always initiates a plan that deals with every aspect of the job they are on, so customers can feel confident that the technicians cleaning mold out of their property will also implement any water damage repair services they may need. 
Don't waste your time with other mold remediation companies. Call 911 Restoration to receive mold removal in Raleigh that will leave your property looking and feeling fresh and clean.
Professional Mold Cleanup in Raleigh
Many customers call the office reporting black mold in their property and want immediate assistance removing the hazardous substance.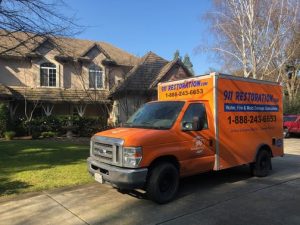 Although there have been cases where technicians have decontaminated homes from a black mold infestation, more often than not, the mold in these properties appears black in color but is not the infamous black mold.
Since it is difficult to classify mold species based on visual queues, the technicians will take professional samples of mold spores found growing inside your property during the mold cleanup process.
These spores will be sent to a third-party laboratory and tested to determine exactly what type of mold is growing in your home or business. This information will help customers decide what actions need to be taken to eradicate a potentially hazardous mold colony.
You can depend on the repair techs to assist you throughout the entire decontamination procedures, no matter what type of mold is discovered. We have experience removing both benign and black mold and feel confident that we can turn your property back into a safe space.
Call 911 Restoration of Raleigh at 919-371-5632 when you need thorough mold remediation and testing services. We know we can turn your mold infestation into a Fresh Start!
Servicing the cities of Apex, Cary, Chapel Hill, Durham, Fuquay-Varina. Garner, Gransdale, Holly Springs, Hopkins, Knightdale, Morrisville, Raleigh, Rolesville, and surrounding areas.