Hurricane Damage Raleigh
Even though hurricane damage can severely impact your property, disrupt your life and leave you with a world of questions, there is no need to fret when you have our hurricane damage raleigh specialists at 911 Restoration Raleigh on your side.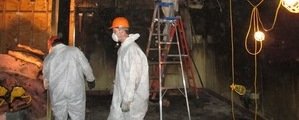 We never want to leave you in a state of disarray during a time like this, which is why our specialists are available 24/7/365 to provide you with immediate assistance.
When you reach our to our hurricane damage Raleigh team, you won't ever have to wait more than 45 minutes until we arrive on your doorstep fully equipped with the proper gear to begin cleanup procedures.
It is important that we conduct a free visual inspection of the entire premises because of all the issues that a hurricane can cause to a home or building, such as wind damage, flooding, pipe bursts and even sewage overflows.
Our hurricane damage Raleigh technicians are licensed, bonded and insured, so you can have peace of mind that your home or business is in the right hands. We also work with IICRC certified technicians to provide you with comprehensive services that include:
Surveillance of the damage site

Water extraction services

Flood damage restoration

Implementation of advanced drying techniques

Repair of structural damage

Removal of debris from property

Assistance with the removal of damaged furniture/possessions

Restoration of flooded and destroyed landscaping

Wind damage remediation

Storm surge restoration
 On top of conducting the property damage repairs, our project managers will help you understand your insurance policy and work with you to obtain the most coverage, call our hurricane damage Raleigh specialists today!
Trust Us To Repair The Damages Created By The Storm
Our hurricane damage Raleigh specialists have been in the industry for many years, so when you hire us you can be sure that we have the skills and knowledge to thoroughly find any hurricane damage in your home or business.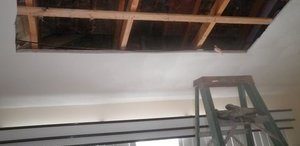 Often times the roof of many properties become damaged from the strong winds that are generated during the hurricane, and even though often times these damages go unnoticed, we always thoroughly check these out-of-sight places.
We will board up any holes in your roof and provide a temporary covering over any exposed areas. so you and your family can be safe and secure throughout the entire restoration process.
Our hurricane damage Raleigh experts are also trained to look for broken gutters and downspouts, damaged bricks, broken septic tanks or even mold and mildew. During a storm, water can seep through the roof or window of your home and cause mold spores to blossom into an infestation.
Our hurricane damage Raleigh experts are as well-versed in sanitizing your building after a mold infestation as they are cleaning up after a hurricane, which gives us an edge over our competition. Call our hurricane damage Raleigh technicians immediately after the storm has passed and we will save your home from extensive damage today!
Comprehensive Storm Damage Services
Experience, customer support and industry-leading professionalism is what you will get from our hurricane damage Raleigh specialists when you hire us to repair your home or business.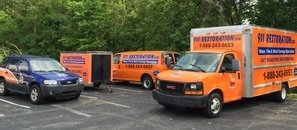 Not only are our crews the most experienced in the industry, but we also assist all of our customers with the financial end of things.
We want to make sure your wellbeing is taken care of during the entire process, and with your best interests in mind, you can count on us to patch up any issue with the utmost professionalism.
In order to make sure that these services are available to you at the most affordable prices, our hurricane damage Raleigh agents know that you should contact your insurance provider the moment you discover the hurricane damage.
Our specialists will help you file your claim and get you the coverage your deserve, because the last thing our hurricane damage Raleigh pros want you to worry about during this ordeal is your financial situation. Call our hurricane damage Raleigh agents at 911 Restoration of Raleigh today and we will give you the fresh start you need to get your home or business up and running again.