About 911 Restoration Raleigh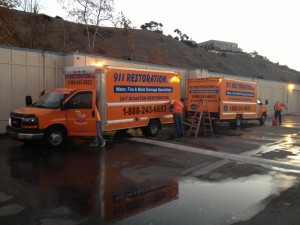 David Niles Howard Jr, owner of 911 Restoration Raleigh, is the American dream incarnate. After finishing his schooling at East Carolina University, he followed an entrepreneurial itch and started a carpet cleaning company in 1993.
With $800, a 78 Olds Cutless, and a portable wet vacuum, he followed threw that year with 22,000 dollars back. In that time, he realized that to go beyond carpet cleaning he needed to become IICRC certified, and by 1998 he had become an IICRC Master Cleaner.
Bringing people back from the brink of ruin was ultra-satisfying, and by 2001 he had served over 3,000 customers. Now, in 2016, by joining 911 Restoration, he hopes to inspire the entirety  of Raleigh with the fresh start that they deserve.
By making things better than they were before, regardless of the damage was water, fire, or mold, you will be able to go out there and inspires others. Changing the world one life at a time is what him and the water damage Raleigh team are all about.
You get help from a certified team 24/7/365
For the all emergencies you get a response within 45-minutes
Same-day service too
For the fresh start that you deserve, and a team of cleaners and restoration experts, that know what they are doing, call 911 Restoration.
Fresh Tips: Niles Style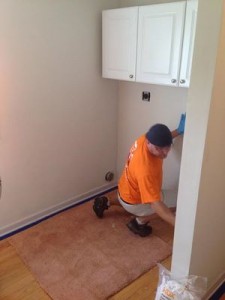 Niles will be there for you when disaster strikes, and he will be there for you before with this fresh fixes and tips.
Fire Readiness and Mitigation
Fires are freak accidents, and they cannot always be prevented, but knowing that they are frequently caused by can help you out a great bit. Most fires are due to electronics malfunction. Some DO NOT's that everyone should practice include: no running wires behind couches, and over carpets. The amount of dust and friction that collects there could ignite. Moreover, having a fire extinguisher and smoke alarms threw out your house will help you react to fires.
Pipe Bursts Avoidance
Avoiding a pipe burst is as easy as knowing where they are and what temperature it is outside. Knowing where your plumbing runs, and where pipes are laid, will help you prevent drilling into them while hanging a picture or remodeling. Moreover, they will help you know where a leak or burst is a occurring if one takes place. For example, you know that you have exposed pipes in your basement, so you buy an insulating sleeve. However, what you do not know is that there is an elbow joint in between your bathroom and bedroom walls. Thus, that pipe bursts, and a couple of months later the signs of water damage start to show themselves. Knowledge is power, so know how to take care of it.
Those are the two most common occurrences that Niles responds to, so now hopefully you are prepared for them before they happen.
When one does occur call 911 Restoration Raleigh for a water damage and disaster damage restoration team.
Restoration Elaborated Upon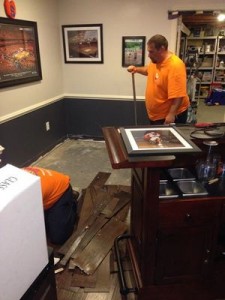 Water damage happens quickly, and can compound fast. If not remediated even faster, then you may face a mold infestation. But fret not, as when you call 911 Restoration Raleigh, we will be there for you to make everything better than it was before. The Restoration crew has the training and the know how to extract water and preform a proper dry-out.
The three tools needed for water extraction are:
Blowers
Air Scrubber
Dehumidifiers.
We bring these tools with us to every job, so expect immediate service when we arrive at your door. When it comes to setting them up, the amount we need varies per job. As well as duration, but we can give you some simple elaborations as to what they do.
Blowers move the air, thus aiding the two other tools in doing their job. Bringing clean air in, and removing stale air is imperative to long lasting restoration. The air scrubbers will help with odor mitigation; as stagnating water can be headache inducing. These two tools work with dehumidifiers to pull moisture from the air, as to allow you the ability to ensure a speedy dry out.
For more disastrous events, such as fire or a flood, we bring more advanced equipment. Every problem is unique, so count on Niles and his water damage Raleigh team to bring you a catered solution.
Call 911 Restoration.