About 911 Restoration of Raleigh
Our water damage restoration team in Raleigh is all about changing the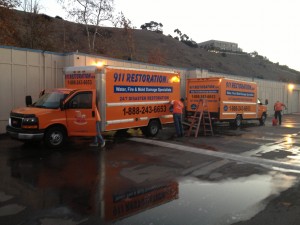 world one life at a time. Whether your home or business has experienced water damage, fire, or mold growth, 911 Restoration of Raleigh is here to help. Our licensed, bonded, and certified team is available 24/7/365 for all emergencies and they guarantee a response time within 45 minutes.
Get the Fresh Start you deserve from a team of professional cleaners and restoration experts by calling 911 Restoration of Raleigh today.
Fresh Tips from our Raleigh Team
We will be there for you when disaster strikes, but there are also steps you can take as a property owner to prevent future damage. Fires and pipe bursts are the most common disaster situations that our Raleigh professionals respond to.
Fire Readiness and Mitigation
Fires are freak accidents, and they cannot always be prevented, but knowing their most common causes can be very helpful. For example, many fires are caused by electronics malfunctioning. To prevent this, property owners are advised to not run wires behind couches and over carpets, as the amount of dust and friction in those spaces can easily ignite. Moreover, make sure to have a fire extinguisher and smoke alarms throughout your house, and brief your family and employees on where these are located.
Avoiding Pipe Bursts
Pipe bursts are very preventable, as long as you know where your property's pipes run and the temperature outside. Knowing where your pipes are laid will help you avoid drilling into them while hanging a picture or remodeling. Moreover, knowing where your pipes are makes it easier to determine the source of a leak or burst if you experience one on your property. Knowledge is power; use it!
Water Damage Restoration Basics
Water damage happens quickly, and can compound fast. If not remediated within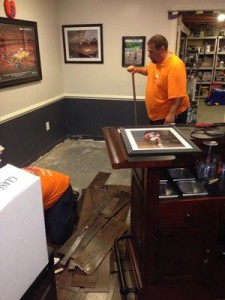 three days, mold can start to grow. But don't worry, because 911 Restoration of Raleigh is available 24/7 to make your water damage situation go away. Our professionals have the training and the know how to extract water and preform a proper dry-out.
We bring blowers, air scrubbers, and dehumidifiers to every job, so that we can begin restoration work right away. Blowers move the air, thus aiding the two other tools in doing their job. Two of the most important steps in the water damage restoration process are bringing clean air in to the affected area and removing stale air. The air scrubbers will help with odor mitigation, as stagnating water can be headache inducing. These two tools work with dehumidifiers to pull moisture from the air, ensuring a speedy dry out.
For more disastrous events, such as fire or a flood, we bring more advanced equipment. Every problem is unique, and you can count on our water damage team in Raleigh to bring you a personalized solution.